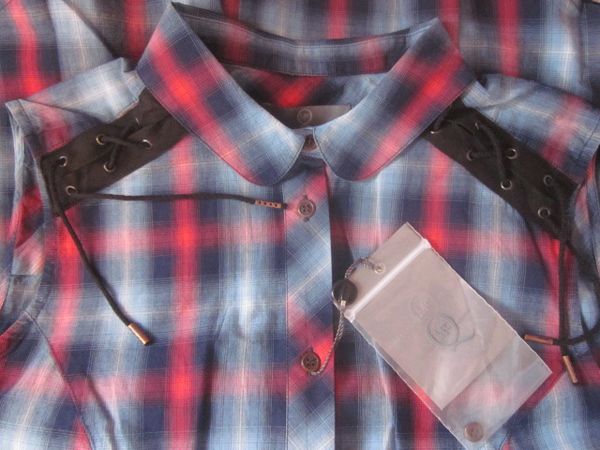 As I write this the seconds of my 23rd Birthday are all but gone so I thought I would write about my day. I woke up this morning to cards and presents, one of which I had already received. If you've been reading my tweets you'll see I got a bicycle for my birthday who goes by the name of Dolores. I constantly harp on about her and have had her for a few weeks now and it is still love! Opening up my presents this morning I was surprised by this Alexander McQueen top, I actually can't believe my Mum has bought me something like this. I plan to wear it tucked into black denim shorts and will be so careful when wearing it thats its unreal. As I was unwrapping my gifts my Mum told me there was 'something else' but that it hadn't arrived yet. Turns out she got me the Vivienne Westwood rain boots which turned up as I was opening my gifts! Sadly they are a bit small so I shall have to wait until my size arrives.



After lunch my Mum and I headed into town and had a mooch around the charity shops. I bought this absolutely incredible cat teapot which I am so in love with. I also got a top and a hip flask which shall come in useful over the weekend. We had a little spot of food to eat and I treated myself to this beauty of an ice cream, birthday treat and all! You can also see two of our cats chillaxing above, the black one is Mia and the orange one is my baby Jasper. My beloved bicycle Dolores is also above, isn't she gorgeous? I take her out for a spin nearly everyday, yesterday I went 10 miles down a canal.
When we arrived back home it was time for tea and cake! Hurrah! After this my Mum, Dad and I headed into town for one of my favourites, Wagamamas, before watching the new Snow White film. I really enjoyed the film despite Kirsten Stewart being in it (I am not a fan).
I am heading up to London tomorrow night for wine and food with my flatwives on our roof. Friday I am heading for a night out in Camden before Field Day festival on Saturday. I am so excited for the festival, lots of my favourite people, both friends and bands, are going to be there so it should be really special. On Sunday my friends are holding a Jubilee party too.
I guess this is a heads up I might not be posting too much over the next few days, however have some scheduled posts too,
R x