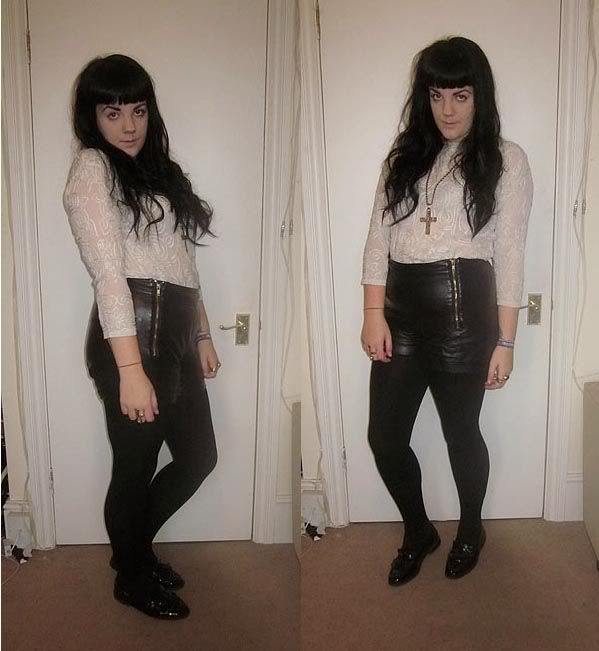 Oversize Olive Cardigan - Topshop
White Swirl Top - Charity Shop
Cross Necklace - Gogo Phillip
Leather Shorts - Topshop
Loafers - Russell & Bromley
Happy Saturday! I hope everybody has been having a better day than me. I spent mine at work with a cold feeling really ill and sorry for myself. I will confess to cheating as this is not what I wore today but earlier in the week when I was less poorly.
I have lived in these leather shorts for the last two years and am really sad that their death and retirement is imminent as they are in shreds inside and the creasing on the leg is just starting to really not be such a good look anymore. I think I am going to have to hit the vintage shops for a replacement pair soon. The top I got in a charity shop last week for £3 which I am really chuffed with. I can see it being great for layering with pretty simple outfits like this.
Now to the exciting part! As you may know I have been toiling away since July (and while at Uni a lot longer before then) trying to get myself some paid freelance writing. I have decided that after six months this is just not happening for me, even if I have had a lot of pieces published by various magazines. I am so very happy to announce that as of Monday I am starting at Gig Wise as their new intern! I am hoping that such a great position will lead to some very exciting new ventures in 2012. I will continue to do writing on the side of this and work as well, as it is one of the few things in life that keeps me sane.
Hope you all have a great weekend. I am really sorry about the crap picture quality, I really don't know what is going on as I haven't change my camera, laptop or anything like that?
R x