White Pleated Dress - Topshop
Floral Head Band - Crown & Glory
Justice Ring - Gogo Phillip
Pillar-box Lipstick - Barry M
While on Twitter (Robyn_Lynch) earlier today I saw that the people at
Fashion Blog Love
were looking for people to submit four items of clothing based on an outfit of a celebrity they admire to be featured on their website. I know I have already featured Lana Del Rey recently but I really do love her music and style and thought that a Currently Coveting post on the star would fit in really well with what Fashion Blog Love are looking for. As such I decided to post two outfits as she seems to have two quite distinct looks.
The first is all buttoned up collared shirts, with red lipstick and amazing floral headbands. A look that I myself love, although I need some more headbands to complete it, I thought that this little outfit really reflects her style in this way. I can just imagine a gorgeous pair of tan sandals to complete this outfit come those long awaited summer months.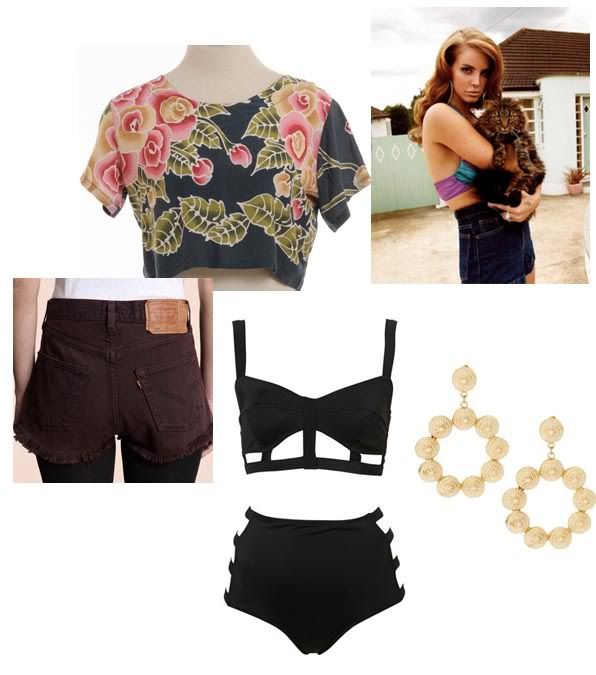 Floral Crop Top - Beyond Retro
Burgundy Denim Shorts - Levi @ Urban Outfitters
Black Cage Bikini - Topshop
Gold Drop Earrings - ASOS
The second look I have put together is a more relaxed yet more retro inspired outfit. I love these burgundy shorts from Urban Outfitters and think they would look great together with this vintage top and some big gold earrings. The black bikini top underneath would make this the perfect way to adopt her look above, although a big, fluffy tabby cat would also be required.
What do you think of her look, have I captured it with these outfits?
R x