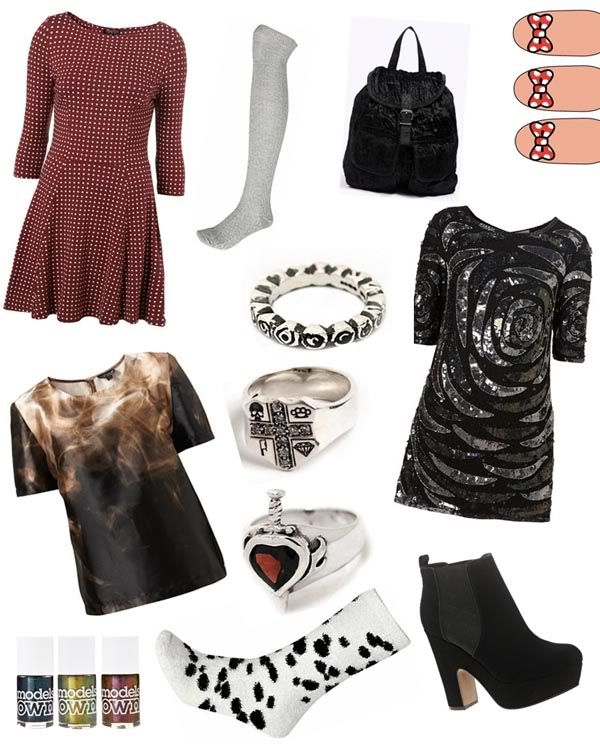 Red dot dress - Topshop / Smoke pattern top - Topshop / Nail Polishes - Models Own via ASOS / Grey Knee High Socks - River Island / Rings - The Great Frog London / Dalmatian Socks - River Island / Velvet Backpack - Urban Outfitter / Bow Nails - WAH Nails / Sequin Rose Dress - Topshop / Chelsea Boots - ASOS
There are so many lovely things out on the high street at the moment that I just had to share some of my favourites. As I was putting this together I noticed a red, black and white theme showing through and I think it it such a lovely, yet day time glamorous look. I am desperate for a pair of black suede day time heels at the moment and am in love with chelsea boot heels so these ASOS babies really appeal to me. I think they would look amazing with the red dot Topshop dress, grey knee highs and velvet back pack.
I have also become a massive fan of The Great Frog London jewellery, it is just such a shame it is all so expensive. I have never had a manicure and my love of nail art and fun polishes has exploded over the last year. These Models Own polishes are everywhere and ASOS are currently offering these three for £10, such a steal! I have asked my Brother to get me a WAH Nails voucher for Christmas, these lovely bow ones are £29 and I really can't justify that myself, but as a Christmas treat it seems worth it.
What are you currently coveting?
R x