As somebody who has worn the same eyeliner in the same cat-flick style since I was fifteen years old, splashing out into other brands was some what of a daunting make up challenge. I have been thinking of investing in some more high end make up products from the likes of Mac and Chanel, such as Mac's pot and paint eyeliner, however wanted to try out the method before I handed over the money.
This is where Maybelline's Eye Studio Lasting Drama Gel Eyeliner came in. I have seen a few other bloggers trying it out and thought I would do the same thing. At £7.99 it is a tad pricey for a low end brand, however having used it the little tub is going to last me ages and ages so think it is a fair price to pay.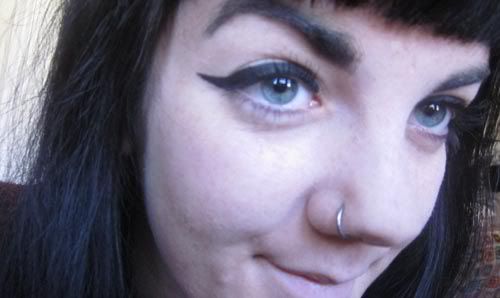 The product itself is absolutely brilliant! The little brush makes the eyeliner really easy (and fun) to put on as you have more command over your lines. The fact that this is a gel and not a liquid also makes it a lot easier to paint your eyes in the way you like, and you don't get any of those super annoying lines on your brow bone while it is drying. The only downside is that it isn't quite as long lasting as I would hope, however will be buying this, or the Mac version, in future instead of the one I had been using for the last seven years.
R x